BTZS ExpoDev for iPhone now available!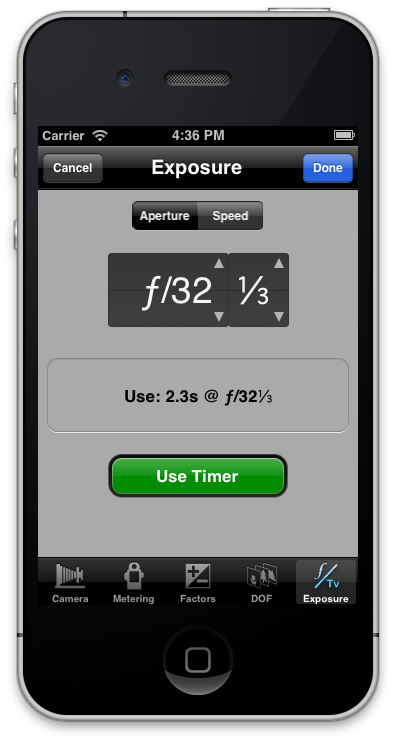 The latest generation of BTZS ExpoDev for iPhone/iPod Touch/iPad is now available in the iTunes App Store. This is a completely redesigned version of ExpoDev with many new features. It uses the same Film Profiles that previous versions of ExpoDev use so you can load your films and immediately get back to creating photographs.
General ExpoDev information, help manual, and support information can be found here: BTZS ExpoDev for iOS
Get the App on iTunes here: BTZS ExpoDev
BTZS ExpoDev works on the iPhone, iPod Touch, or the iPad. Click here for details on supported devices and iOS versions.
---
Welcome to BTZS.org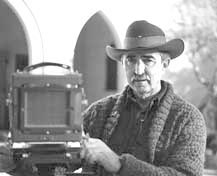 These forums are provided as a service for the photographers in the BTZS community but other photographers who are seriously interested in black-and-white, large-format photography are welcome to participate.

BTZS refers to "Beyond The Zone System," the title of a book I wrote almost 25 years ago, and is now in its 4th edition. This was not an attempt to discredit Ansel's work; I believe his Zone System concept was innovative and ingenious, and his art and technique have inspired generations of photographers. But times have changed and we now have tools and materials that were unavailable when the Zone System was born.

As a result, BTZS is "beyond" the Zone System in several ways. First, we test our materials using sensitometric methods to produce test data that are more comprehensive and more reliable than conventional empirical methods can achieve. Second, we use sophisticated computer programs to analyze the test data in the lab, and generate working data in the field. Third, we replace "N-numbers" as indicators of development extent with Average Gradient values which are more specific and more reliable. Finally, we recognize that both science and art are essential elements in photography. BTZS can equip you with the knowledge and skill you'll need to handle your materials effectively, but that's as far as it can go; it's up to the artist in you to apply what you've learned to produce images that are worth looking at.
- Phil Davis (1921-2007)
News and updates
03-09-2012

BTZS ExpoDev for iOS/iPhone is now available in the iTunes App Store. Click here for more details: BTZS ExpoDev for iOS.

10-22-2011

We've been given permission to reproduce many of the articles that Phil wrote for Photo Technique Magazine. Head on over the the articles page for more info. We will get more of them online as we get them scanned so keep checking back.

7-17-2010

Phil Davis - The Dexter Portfolio

A portfolio by Phil Davis has been added to the gallery. Click here to see it.

7-2-2007

Phil Davis (1921- 2007)

Phil Davis died at his home in Webster Township on July 2, 2007. He was
born in Spokane, WA on October 15, 1921, the son of William B. and Mary
Augusta (Maples) Davis. The family moved to upstate New York when he was
twelve and after his graduation from high school, he enlisted in the
Army Air Force. He was commissioned in 1943 and served as a flight
instructor until his discharge as a First Lieutenant in 1945. He
graduated from Albright Art School in Buffalo, NY in 1948 and joined the
staff of the University of Michigan's College of Architecture and Design
as an instructor in design and drawing. From 1964 until his retirement,
he served as a Professor of Art in the University's School of Art,
teaching photography and drawing.

He received two Horace H. Rackham Foundation Grants, in 1967 for
investigation of historic photographic processes and in 1974 for further
investigation of non-silver processes. During those years, he also
worked as a freelance photographer in advertising illustration and
received numerous awards, medals and honorable mentions from the Detroit
Art Directors' Club and from similar organizations in New York and
Chicago.

As part of the University's Sesquicentennial celebration in 1967, Phil
conceived, produced and supervised installation of an exhibition of 264
photographs mounted on steel structures on the Rackham Mall between Hill
Auditorium and the Michigan League. A book of these photographs titled
"The University" was published by the University of Michigan Press. His
other publications included three textbooks, many magazine articles, a
limited edition of platinum prints made from noted cinematographer Karl
Struss's original glass negatives, and "The Dexter Portfolio", a limited
edition of mounted black and white prints. His work is represented in
numerous public and private collections, including those of the Detroit
Art Institute, Chicago Art Institute, International Museum of
Photography in Rochester, NY and the Museum of Modern Art in New York
City.

In addition to appearances as guest artist, juror and speaker at various
events, Phil conducted a series of workshops throughout the country in
his "Beyond the Zone System" method of producing photographs using
proven scientific testing methods which allow photographers to produce
superior photographs through a precise, working knowledge of their
chosen materials.

Phil retired as Professor Emeritus of Art in 1985 and in 1988 one of his
former students, Chicago architectural photographer Nick Merrick,
organized and curated "Phil Davis, Photographer: The Teacher and His
Students", an exhibit in the Paul Slusser Gallery of Phil's work and
that of 20 of his students.

He is survived by his wife Martha (DeLano), his sons Carl (Becky) of
Eaton Rapids MI and their children Anna-Lisette, Charlotte, Gretchen,
Philip and Lucy; Tim (Katy Robinson) of Byron Center MI; and Jon (Amy
Mattox) of Norcross GA; his sister Helen Beck Reimondo, her sons Tom and
Dave Beck and their families. In accordance with his wishes, cremation
has taken place and there will be no services. Memorial contributions
may be made to Hospice of Michigan or the Dexter District Library, 8040
Fourth Street, Dexter MI 48130.

1-2-2005

08-31-2004

03-08-2003

11-11-2002

11-01-2002

10-07-2002

9-19-2002

9-12-2002

9-10-2002

9-08-2002

8-29-2002

8-23-2002